Songs I Heard This Week (Halloween)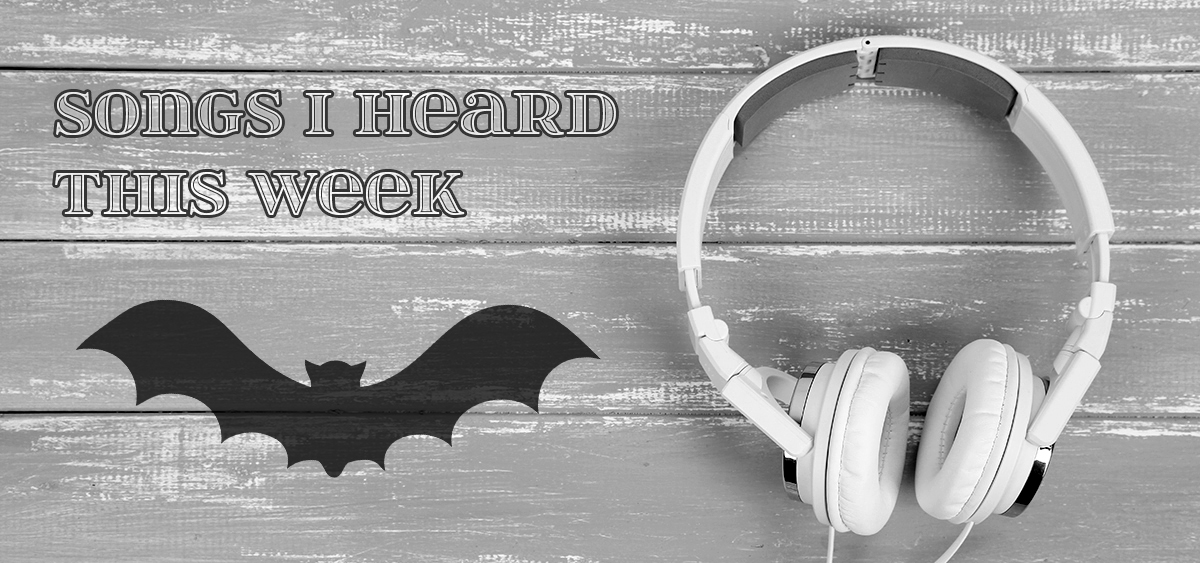 I love Halloween! I'm quite like a kid at this time of year. While I like to watch a good scary movie, I equally enjoy music that perfectly compliments the season, so I thought I'd share some selections from my spooky playlist. It was quite challenging to settle on 10, so perhaps I'll do another list next year. In the meantime, I'll forgo
Monster Mash
and
This Is Halloween
, as those are practically a given. Instead, hopefully I'll be able to highlight some slightly more obscure favorites and a couple classics as well.
Bing Crosby – Headless Horseman
Disney's version of "The Legend of Sleepy Hollow" is effectively spooky, but surprisingly, the animated short was completely narrated by the affable Bing Crosby. I can't think of many people I would consider less scary than Bing, but he adds an incredible amount of charm to the telling of this beloved interpretation. Including this fun little song that Brom Bones successfully tells of the Headless Horseman to scare poor ol' Ichabod Crane out of town. I gotta say, it would probably work on me as well!
Howard Shore – Ed Wood Main Titles
Ahhh the opening to the Tim Burton film, Ed Wood. The theme, composed by Howard Shore, does an absolute brilliant job of capturing that late 50s/early 60s b-movie vibe, while making it modern and fresh. If you're familiar with Ed Wood (winner of the Golden Turkey Award as Worst Director of All Time), but have not yet seen this biopic, I can't recommend it enough. It ranks as one of my all-time favorite films!
Bert Convy – Monster's Hop
If you love the Monster Mash, but feel it's time to mix it up a little, be sure to check out this oldie, but goodie, by Bert Convy! While not nearly as popular as Bobby 'Boris' Pickett's Halloween staple, it too conjures images of all the classic Universal Monsters gathering for a spooky little shindig. Fun, fun!
Tim Curry – Anything Could Happen On Halloween
The cheese factor is high on this clip from the 80s Halloween special, The Worst Witch. Before there was Harry Potter and his school of Hogwarts, I grew up watching this special every year, so it holds sentimental value for me. Not to mention, Tim Curry is infamous for turning any role, even the most cringe-worthy, into something you won't soon forget.
John Carpenter – Halloween Theme
This wins hands-down for creepiest Halloween theme song ever! Even before I saw the movie, this score would send chills down my spine. I don't know what it is exactly, the menacing piano music or threatening bass line, but one thing is certain, it does a great job of assisting Michael Myers as an ominous threat. I actually had an encounter with him once in a local haunted attraction. My husband and I gripped each other tight as we heard the theme music playing, all too aware of what that signified. Sure enough, as we turned the corner, Michael Myers began his approach and we ran smack into a wooden box and fell to the floor. Turns out he is quite the gentleman though, as he politely handed me my shoe that flew off so I could continue to run like hell.
Disneyland – Grim Grinning Ghosts
Disneyland has well earned its title as the "Happiest Place on Earth". This song, however, could more be described as being located in the "Spookiest Place on Earth", which also happens to be my favorite Disney attraction…The Haunted Mansion! It is composed by none other than the Sherman Brothers, famous for their award-winning music on numerous other Disney productions, such Mary Poppins and The Jungle Book. Also known for writing the soundtrack for another irrepressibly catchy Disney attraction, It's A Small World, which some may consider even scarier. But for my money, you can't beat the ensemble of a ghostly ragtime band!
Round Robin – I'm The Wolfman
I love a good werewolf movie, heck I even love the bad ones, so I found this to be a fun little novelty record (along with Sam The Sham's,
Little Red Riding Hood
)! Just remember, he comes out "In the middle of the night when the full moon rise"…
Garfield – What Should I Be?
As a child of the 80s, this was definitely a Halloween staple! Most often it would play back to back with It's A Great Pumpkin, Charlie Brown. It's a shame that it's lately fallen into obscurity, as it's actually quite an effective little ghost story, and it wouldn't be Halloween for me without at least one viewing. This number is a fun little diddy that everyone can relate to as it begs the question…what costume will you choose this Halloween?
Frankie Stein & His Ghouls – Doctor Spook
This one comes from an old record LP of Halloween instrumental music for parties. I think the scratches in this transfer actually adds to the mood of the music and the time period in which it was recorded. It has a certain creepy quality that gives me the heebee geebees! There's just something about low budget 50s and 60s Halloween novelty recordings that I adore!
Legend of the Dogman
As a kid growing up in Michigan, you couldn't escape the terrifying legend of the Dogman. While he was only supposed to come out every seven years, it seemed like every year was the year it was supposed to come back. Just hearing stories of sightings would make my mouth go dry, but it was this song that did every kid in. If you visit the video's
YouTube
page there's a little bit of a backstory on the song in the info section that's worth checking out.
HONORABLE MENTION…

Vince Guaraldi – Great Pumpkin Waltz
I would be remiss if I didn't include this beautiful piece by Vince Guaraldi from my favorite Halloween special, "It's The Great Pumpkin, Charlie Brown". It's not really scary so much as melancholy. It's the piece I always play late on Halloween night to signify that Halloween has officially come to an end. It's oh so fitting and I can't hear it without thinking about that dark, somber moment of knowing we'll have to wait a whole year to do it again!